The Biodiversity Special Study (BIOSS) provides the foundation for the other technical studies, which are designed to assess how particular threats affect the lake's biodiversity.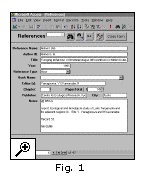 In this capacity, BIOSS objectives were to:
review current levels of biodiversity in the lake
identify the distribution of major habitat types, with particular focus on existing and suggested protected areas
suggest priority areas for consrvation, based on existing knowledge and recommendations from the other specail studies and supported by additional survey work
develop a sustainable monitoring program

BIOSS has established a literature database which currently contains more than 4,000 entries in it from the existing literature on Lake Tanganyika (Fig. 1). It is intended that data entry should continue beyond the life of the project. Scientists and resource managers can query this database to determine the known distributions and habitats of particular species. This database also interacts with the LTBP Geographic Information System [TanGIS] so that species distributions can be mapped.

Studying the biodiversity of Lake Tanganyika through national teams of SCUBA divers who conduct habitat profiles and censuses of fish and invertebrates is the foundation of the BIOSS strategy.


22 scientists from national research institutions, fisheries departments, universities, parks, and other collaborating agencies have been trained to SCUBA dive and in underwater research techniques (Fig. 2).

These national teams conduct underwater habitat profiles and censuses of fish and invertebrates to describe and monitor biodiversity in Lake Tanganyika.